Mistakes to Avoid When Writing Your First Novel
So you're ready to embark on the journey of writing your first novel. How are you feeling? Excited? Nervous? That's perfectly normal! After all, writing a book is no small feat.
As a new writer, there are going to be pitfalls you encounter when writing your first novel. But fear not! In this post, we will highlight some common mistakes new writers make when drafting their first novel so you can avoid them—and set your first draft up for success!
Expecting perfection
Before you begin drafting, it's important to know this one great truth of writing: there is no such thing as a perfect first draft. Some authors have even made the first drafts of their novels available just to show how much a book changes from its initial stages to its final form on a bookshelf!
After all, drafting a novel is only the first step. Once your draft is complete, the real work begins! Your book will need to go through revisions, including developmental edits, line edits, copyedits, and proofreading. You may even send your book out to beta readers or hire professional editors to help you. Every stage in the revision process will require changes to your manuscript, so there's no sense in expecting a perfect draft right off the bat! That's simply not how books are written. When you're first discovering the story, give yourself the freedom to just write, without agonizing over that perfect next word.
Forgetting to actually write
No, we're not kidding— this is a real mistake beginning writers make! When writing a first draft, anything that keeps you from putting words on the page is counterproductive, even if they might seem helpful at first glance.
What kinds of things are we talking about?
First, don't make the mistake of agonizing over your story's outline. The whole point of outlining is to get you ready to draft, so don't endlessly revise your outline and never actually sit down to write your book. Your outline will likely change as you write— and that's okay!
Avoid falling down the rabbit hole of research. Whether you're looking into historical details, the science behind space flight, or the cultures you wish to include in your novel, just remember that you don't have to be an expert in everything about your world or characters to start writing. Research is important, but don't let it distract you from your real goal—finishing your draft!
Similarly, reading craft books and novels in the genre you're writing can be helpful for new and experienced writers alike, but don't let reading get in the way of putting your own words on the page.
Being prepared to write your book is a good thing, but overpreparing to the point of delaying the actual act of writing is a mistake beginning writers often make. There's no such thing as a perfect first draft, so don't be afraid to dive right in.
Writing flat characters
Writing a book is all about balancing the advancement of plot, character arcs, conflict, and action, which is a lot to keep in your head at one time! It's common for first-time writers to end up with underdeveloped story elements. But as a first-time novelist, it's crucial that you take the time to get to know your characters.
Consider writing backstories for your cast before you begin drafting. Knowing your hero's backstory, and how their origins affect their needs, wants, motivation, and thoughts will help you flesh them out not just in your mind, but on the page.
Knowing your characters inside and out will help you craft a plot that gives your protagonist a satisfying arc and thrills your readers. When plotting your novel, remember to keep your character's arc and the story's events in sync with each other to create a more dynamic, tighter, and emotionally satisfying draft.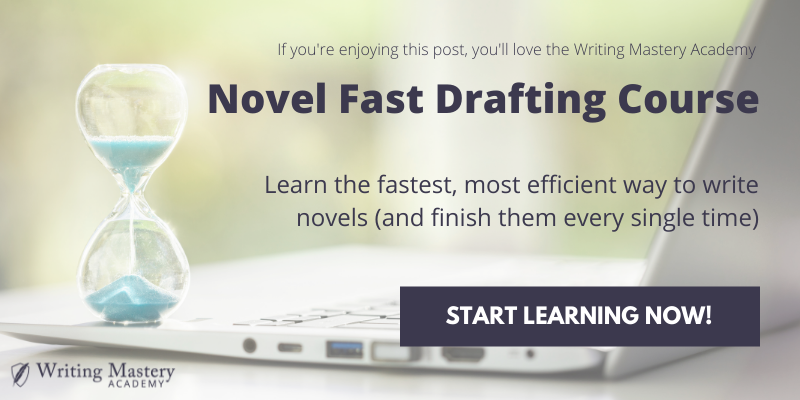 Being too attached to your first draft
Remember how earlier we said that there's no such thing as a perfect first draft? Another common mistake first-time writers make is failing to commit to the work it takes to revise their less-than-perfect first draft.
Embrace the act of revision. It's a mistake to become overly attached to aspects of your first draft that are actually holding it back, like side characters or lines of prose that may end up needing to be cut for the good of the story (this is what writers mean when they say to "kill your darlings!") The revision process can feel brutal at times, but it's a necessary step to create the novel that will ultimately find and delight readers.
Forgetting to take care of yourself
Lastly, take care of yourself. If you need to take a break from writing to refill your creative well, do that. Make a list of things that inspire you (e.g., visiting art museums, building a playlist for your book, or going on a short road trip), because when writer's block or burnout hits, you'll be glad you have some counteractive measures in your writing arsenal.
Writing a book is hard work, but being prepared for pitfalls is the best way to make the process more achievable. Remember, every author you love started where you are now— and had to learn the same things you're learning. If you want to grow even more as a writer, Writing Mastery Academy can give you the knowledge, skills, and support to achieve all your writing goals. We're rooting for you!